Vinyl Railing Kit with Mahogany Top Rail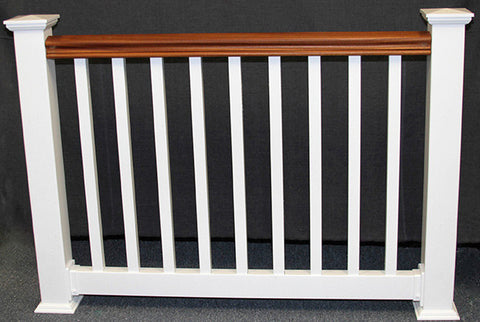 Vinyl Railing Kit with Mahogany Top Rail
Railing Kits Stocked in White Only 

36" (Standard) or 42" Rail Heights Available

  

"T" Top Rail

2"x 3.5" Bottom Rail

Rail is fastened to each side of the rail posts using a filler strip and 3" deck screws. Does not include brackets. (See Full Installation Instructions)
Aluminum Reinforcements
Square balusters.

Available in 4, 6, 8 and 10 ft. Level or Stair Sections

Note: Stair sections are sold with a standard 36 degree angle which should accommodate a tread angle of 32 to 40 degrees. If you require a different angle, we can customize your order to your job specifications.
---